Message from the author
Thank you for using Dynamic Draw/Thought Tickler.
Dynamic Draw/Thought Tickler is a powerful and useful software that has been developed by me personally.
It is opensource and freeware -- it is completely free, even if for your commercial use.
Dynamic Draw is useful for general drawing purposes. For example, drawing a illustration, specification and so on.
Thought Tickler is a package that includes Thought Tickler and Thought Retriever.
Thought Tickler and Thought Retriever is designed to help you to pass the technical knowledge on to another person. It depends on a new idea, 'Hidocument'.
I hope as many people as possible use this tool, and that they enjoy the convienence and advantages it offers.
If you think this tool is useful, please teach your friends, colleagues, or somebody around you, or even just mention this program on your homepage or website.
---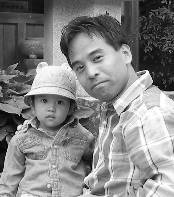 About me
My name is Masayuki Fukushiro.
I am living in Japan with my wife and three daughters.
I've been president of a small company.
I like running, but I'm not a fast runner. Every day, I run slowly around my apartment.
I like to ride my bicycle. I have a nice mountain bike. But I've never rode it in the mountain. I only ride on the road.
I love programming. I feel happiness when someone utilizes my software usefully.
---